Post 2001 Legionnaires,
The 2015 Leesburg Independence Day Parade is this coming Saturday morning. Step-off is a 1000.
The Parade participants will rally at Ida Lee Park. As usual, parking off King Street near entrance. Parking immediately left & right. Assembly in the parade will be as usual on King Street. Our Post normally forms-up between the VFW & the Leesburg National Guard [near the front of parade line-up].
Vehicle traffic on the King Street parade route [and other downtown streets] will be closed-off at 0930, so you should arrive no later than 0915. Parade ends at the Safeway on corner of King Street & Catoctin Circle. BTW, its a great idea to be dropped off at Ida Lee and have your car parked in shopping areas near Safeway [end of parade].
We are honored this year by having one of our Post's World War II veterans, Dick Graff [US ARMY/104th Infantry], participating in the parade. He will be riding in the National Guard's WWII jeep or in one of our vehicles. The 104th Infantry disembarked in Holland and entered combat in October 1944 fighting through Holland and all the way to eastern Germany. Dick will be wearing his Ike jacket & cover, so he will be easily enough to spot! See photo below of Dick with youngsters at Dulles Airport for an Honor Flight last year.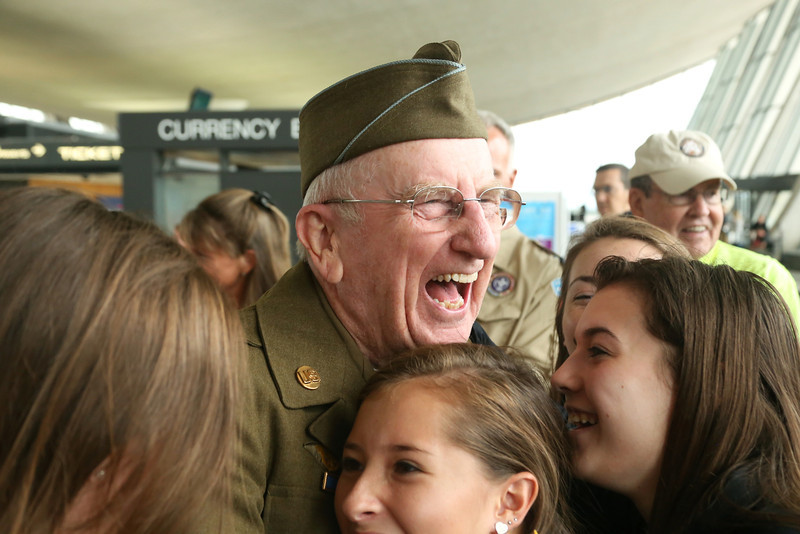 We also have two (2) other World War II veterans in our Post: Ernest Bernhardt [USN] & Chuck Thomas [US Army/Airborne]. Chuck was also our Post's 1st Commander [2001-2002]. Unfortunately, our 4th World War II veteran, Gabe Sams [USMC] passed away last year. Hopefully, Chuck & Ernest can join us in the parade this year ~ not up to walking/"marching," that's fine, we will find a ride for you in the parade, just let me know ASAP at phone number below. It would be outstanding if all 3 of our Post's WWII veterans could participate in the parade this year!
Hopefully the Boy Scouts and/or Cub Scouts & the American Heritage Girls will join us, as in the past!
Uniform is an American Legion polo shirt with long slacks (or a red, white or blue polo if you do not have the Legion polo shirt). Other tasteful patriotic shirts are fine too, if you don't have a Legion Polo shirt. Please consider "marching" in the parade with us – it is a great experience! (and the route is not too long.)
Semper Fidelis, Charlie
Charles M. McKinney, III
CMDR, Leonard W. Kidd
Memorial Post 2001
The American Legion