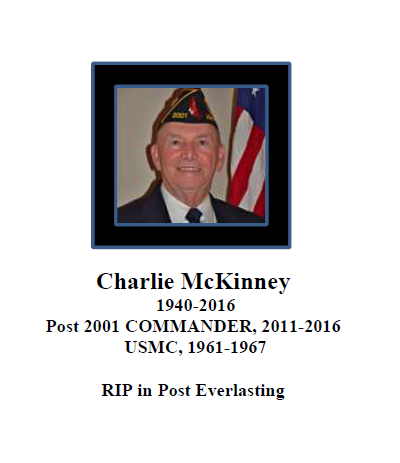 Legionnaires and friends,
The funeral service for our late Commander, Comrade Charlie McKinney, was held on Tuesday, 13 September at 1100 at St Joseph's Catholic Church in Herndon, VA. Fr. Tom, a priest at St. Joseph's and Fr. Jim, one of our Post chaplains and a priest at St Theresa's, concelebrated. The Post provided two pallbearers who joined with four of the family members to escort the casket. Many Post 2001 Legionnaires, as well as members of other Posts,16th District, and the VFW were in attendance.
The burial was at Union Cemetery in Leesburg on Wednesday, 14 September. Comrade Mark Meier, 16 District Vice Commander and member of Post 10, Manassas, sounded Taps while a US Marine Corps burial detail did the flag honors. The Marine Corps League provided the color guard at both the Mass and the burial.
Charlie's obituary can be viewed on Adamsgreen.com (http://adamsgreen.com/tribute/details/3988/Charles-McKinney-III/obituary.html#tribute-start)
Mrs. Eileen McKinney and family ask that in lieu of flowers, please donate to the American Legion Post 2001 Charlie McKinney Memorial Fund, which will be used for assisting veterans and their families in need. Donations can be sent in Charlie's name to American Legion Post 2001, Box 1243, Ashburn, Va.
Cards and letters of condolences to Eileen and family may also be sent to the Post 2001 address.
For God and Country,
Chuck
Chuck Loomis
First Vice Commander
American Legion
Leonard W. Kidd Memorial Post 2001
Ashburn, Virginia